For many reasons, I have always been drawn to Paris. It's architecture, it's romance, the movies (Ratatouille is my favorite haha) It is classic and timeless.
Erin asked me one day if we wanted to go there for a few days. I didn't know what to do. I'm surprised that I didn't automatically say yes. I thought about money. But we called our parents, and both of them said to go. (They rock). We were already over here, so why not.
I want to be better at not focusing on money stopping me from things I want to do. I know it can stop a lot of dreams. I'm glad my parents helped us make this decision. :)
I felt very overwhelmed by people and language there. But truly everything else I loved. I watched a woman try and pick-pocket me. It doesn't help that I wear a camera around my neck everywhere, I will always look like a tourist!
But Paris was the perfect place for me to play with street photography, even though it was rainy most of the time we were there, sometimes it helped!
Who doesn't love seeing flowers on every corner?!
We knew we wanted to see all of the tourist attractions because we had about 2.5 days there. Erin had been before so she took us all around :) I'm obsessed with anything with Paris on it. Journals, pillows, etc. For my birthday my family got me a lamp and the base of it is the Eiffel Tower, and I cried... Seeing it in real life was amazing to me. I found it everywhere we turned through the buildings.
I love the buildings in Paris! All of the doors are grand and the windows all have colorful flowers on the balconies. Also, the orange rooftops are my favorite part.
Erin and I ran across a huge roundabout because we couldn't figure out how people got to the ferris wheel and all I saw were speeding cars coming my way. Erin was ahead of me and all I remember yelling was, "ERRRRIIINNN!!!" I crack up thinking about it now but I have never been more scared.
We made sure to walk through the Tuileries Garden on our way to the Louvre. The gardens were so beautiful. They were the perfect place to read or bring a picnic to!
Erin knew Montmartre would be one of my favorite spots and she was right! It was a little hike and they had shops all over and the best views over Paris.
We visited the Notre Dame one morning and sat on a bench by the river and ate sour strawberry straws. Not very french of us but they were good anyways ;)
I ate my first crepe in Paris and got Nutella everywhere on my pants and tote which made me a little self conscious haha.
I really liked people watching in Paris, and I wish I took more photos of the people! It's sometimes scary especially when they're watching you.
We walked up the Eiffel Tower! I had a turtle neck (OMG) but we had to do it! Over 500 stairs but it wasn't too bad because of the views we got. We thought we bought the correct tickets to go all the way to the top, but somehow we messed up so we only got to the second tier! Still worth it all. I just barely caught this photo through the telescopes of Montmartre.
That night we decided to go back and have a picnic! We ate strawberries, bread, wine, ham, and really gross barbecue chips haha. It was our last night in Paris we spent watching the twinkling lights and people drinking and laughing. Gosh. What a view. I told Erin, "This is one of my favorite views I have ever seen," and she replied, "This is one of the best nights of my life." I MEAN.
My own Humans of Paris pic Erin snapped of me hahaha. I know I'm dramatic. Also, this bag is everything. I strive to practice this but sometimes I let everything get me down. I believe in it so much and preach it, but I know I need to practice more of what I preach too. Especially while traveling. It is a wonderful world we live in and I'm so lucky I got to see a place I've dreamt of.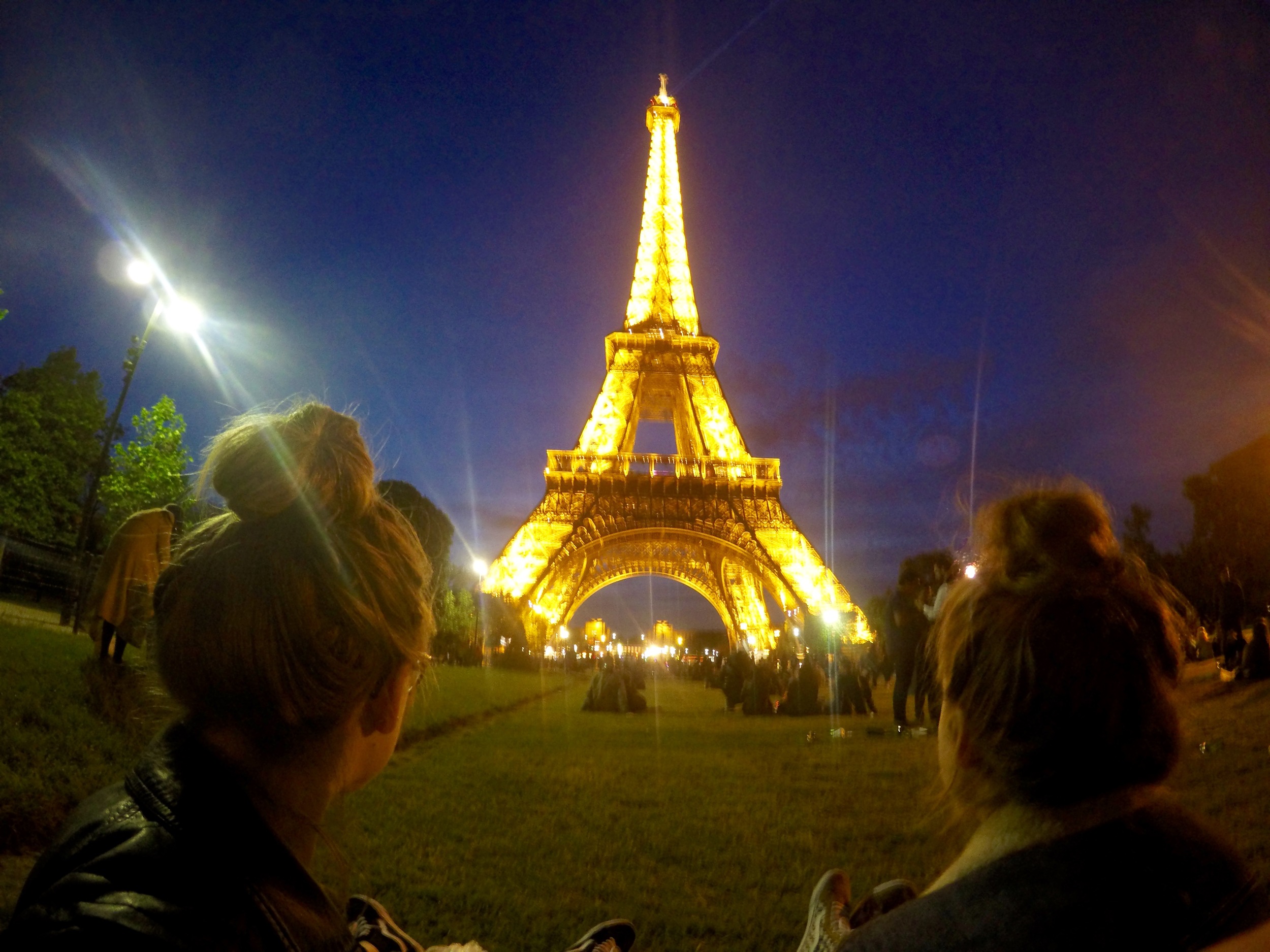 It was so special to be in a place that was just as magical as I imagined. My family thought it was such a good idea I got to see Paris now because I've talked about living there for the past few years. I could really see myself there, but I've got to start practicing the language. So - I will be starting French classes while here in NYC! Yay!
So much love for you Paris, until we meet again :)