I want these posts about our travels to just be very honest and full. When typing I first used the words amazing and incredible in every other sentence and I knew I had to find the right word, something more worthy and not repetitive. So I will try to put into words what this experience has done for me. Yet with that being said, I am a very open person, but for some reason I feel like whatever words I write about Ireland will never be enough. They can't come out to share how I feel about this trip.
This trip will forever be one of my favorite things I've ever done. Everything we did and everywhere we went was never what I expected it would be. I'm not sure why I had ideas or expectations of each place, but each was their very own. Each was better than what I imagined.
It was so special in every way. Having the opportunity to fit this into my life just to explore and be with my sister Erin. She was originally planning on going alone, and I was waiting to hear about an internship. I felt trapped in time in my own life. I didn't like the way it felt, so I kept saying to myself, "Why not?" I asked Erin if it was okay to come along, and for weeks we sent each other photos of Ireland, counting down the days until we left.
When I returned I felt a new perspective take place. I had to say yes more. I had to see the people who put in effort to see me. I couldn't let money stop me from experiences. I want to live my life fully. I think this is something very hard for me sometimes -- unfortunately. I think too much and I just want to feel simply happy.
I've thought about things from this trip everyday since I've been back, and once I went through photographs again, I feel so grateful that Ireland has opened up my eyes. Since being out of school, I haven't photographed too much. I feel rusty still, which may sound silly because it should feel natural. I felt scared about not shooting for so long. I also never do much landscape photography, but I knew traveling would inspire me to shoot.
Ireland has the ability to make you feel very small – one of my favorite feelings - and the world feel very big and wonderful. The things we saw were sometimes surreal.
We went into this only having a few ideas of where we were going to sleep, and things we wanted to see. Looking back the coolest thing is thinking about how much we did and what we saw - and how smooth it all went!
We started in Dublin, headed to Belfast, then to Galway as our main stops. (We fit Paris in between - but that'll be another post!) On some of those days, we took day trips to see big attractions or new cities. The day trips were some of my favorite days. We learned from our bus drivers and got to see more open land, and cute baby sheep! "Remember we drive on the correct side of the rode over here," one driver told us. Looking each way before crossing the street became so confusing!
I hope that my photos show you more than my words can say.
St. Patrick's Cathedral was our big 1st stop in Dublin. It was so beautiful with colorful tulips everywhere! Also we saw a lot of puppies and Erin and I couldn't resist saying hi.
Our jet lag was horrible on the first day but we just couldn't let ourself stay inside! We got a little sleepy during our first meal and made sure to sláinte every drink we had our whole trip! Sometimes we even said it and clinked chocolate, grapes, ... any of our food :)
Going to the Guinness Storehouse was a big one on our list. It's a self guided tour with tasting rooms and seeing really old machines showing the processes. We also went to The Old Jameson Distillery and loved that tour even more! I'm not a big straight whiskey gal, but tasting the difference between Jameson & Jack is something I can do now! "Tastes like college!"
Cobh was a beautiful little town. I met a cute little snail and seeing these colors on a rainy day made it so much better :)
Our day trip to the Blarney Stone was our first and lots of fun. It's a little terrifying hanging upside down just to kiss a stone! I don't think my luck really caught on because I fell down the spiral staircase right afterwards... made of stone. I'll blame the rain. I cried and held my elbow for hours lol.
Belfast had the biggest Botanic Gardens and greenhouses! They were fun to explore even when they felt like a jungle inside. We checked out city bikes and it looked like I'd never ridden a bike before -- they were heavy and I was struggling which probably made me laugh harder.
Going to The Titanic Museum and seeing where it was built so long ago was interesting and sad. You could feel the mood in the museum while everyone read stories. In it you see what the furniture was like, how much food was loaded on, pictures of daughters and names of all those lost. We did find a few Moran's and wonder if in any way we could piece that family tree.
Belfast had some perty light in the evenings. Our view from the hostel had big hills and watching the sunset from our window was always orange shining through our window and I remember us loving watching the sunsets.
Driving along the coast was stunning in any direction. When we got to see the Carrick-A-Rede Rope Bridge, Erin and I couldn't help our facial expressions. We were in awe. I took so many deep breaths in and remember feeling very full of happiness. It was our first time stopping on the coast and seeing tiny islands.
Giant's Causeway was a big hike that we didn't really expect. We weren't dressed for a hike so we were all sorts of sweaty but the views were completely worth it. It was packed with tourists but being up high on the cliff was much quieter :) We bought our Vans in Dublin on our first day because our feet already hurt oops!
We fell in love with Galway so quickly. It was surprisingly tiny and full of musicians and with beautiful weather it made our wandering even better. I ate some of my favorite food in Galway, one of them being the best burrito I've ever had. Weird, right!?
We biked all around Aran Islands somehow without a map and didn't get lost. Within the first 5 minutes though I got a flat tire and Erin didn't come save me. It was a rough start but I remember saying that it was one of the cutest days of my life. We saw so many animals, yelled, "Weeee!!!" down every hill, and raced up when we had the energy. I think we had ice cream twice that day :)
We weren't dressed correctly for this day either, I was wearing black jeans and Erin a skirt, we were struggling a bit with the heat and this was our biggest sunburn day. That Irish blood!
During the bike ride we got so close to the animals! It was special that they trusted us. The white horse was letting me pet him :)
I have to comment on this chocolate shop we stopped at in Doolin. It's homemade, and I picked a Dark Chocolate Rocky Road bar and it was hands down the best chocolate I've ever had. Erin hated me because I couldn't stop saying, "MMM" out loud.
In our minds, the Cliffs of Moher were the #1 thing we needed to see, and luckily we saved this trip for one of the last! Going at noon got a bit difficult with light but these views just can't be done any justice in photographs. I got pretty queezy getting close to the ledge but man it made you feel in awe.
Everywhere we went there were baby duckies or swans! Erin and I watched them for a good half hour and snapchatting them with our commentary. We thought they were our family because there was a mama, papa, and 5 ducklings all in a line :)
This man playing 4 instruments was insane. This was one of our last days in Dublin and we listened to him and didn't want to leave. Then on our last day, we took our final day in Ireland to Wicklow Mountains - another thing we really wanted to do but weren't sure if we could. It was the perfect ending. We stopped at the bridge from PS I Love You and found out that Gerard Butler is Scottish and not Irish! Oh well, still a favorite. We also met this sweet 3 legged puppy Milly who followed us around. At Guinness Lake we only got to stay for about 10 minutes but I know Erin and I could have stayed all day.
Below are photos by Erin on her GoPro or from our phones!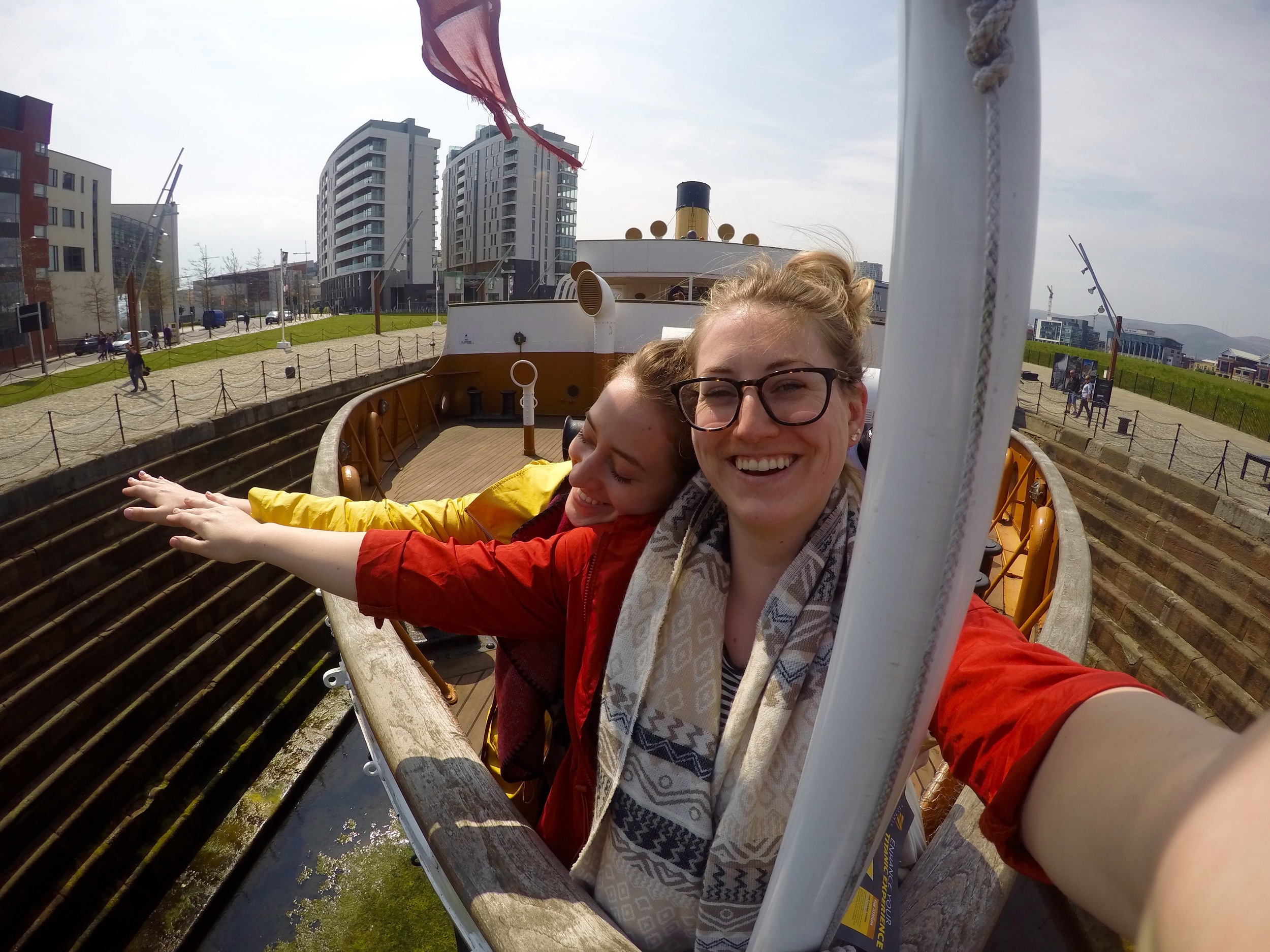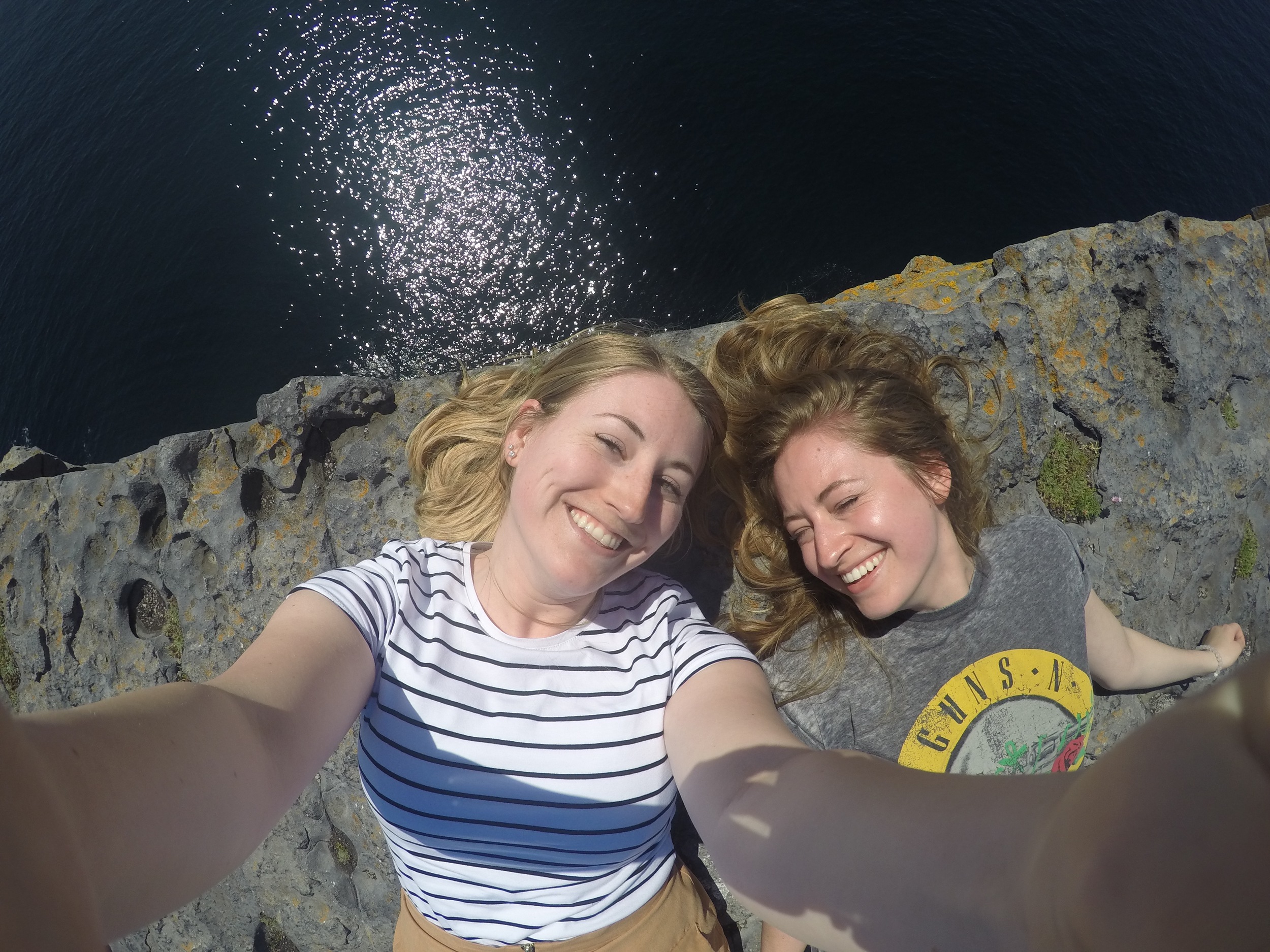 This is an experience that will be with me forever. I'm so lucky to have a sis like Erin. We are the same with planning, so this trip was a new side of spontaneity for us. We needed it. This trip was for us and nothing else. To explore and grow and learn about somewhere that we've always thought about.
Although I missed my home and routine, I know that Ireland was 100% more good than bad. I don't feel I am the best traveler or adapting quickly to new spots, but it makes me wonder if travel photography is something I'd want because of the way it makes me feel. I'm grateful for my dreams to be able to morph just as my life does all because of new experiences.
Traveling does the heart good. This was a time in my life where I realized I may not have this opportunity again, maybe ever, so it was a time to be embraced. The words, "why not" haven't left my mind for a few months now, so hopefully I will continue to experience things just as wonderful :)
I luff ya, Ireland.